Rent a berth
Moorage and berth rent
Haven Kakumäe yacht harbor is equipped with 300 moorage places suitable for different vessels: motorboats, sailing yachts, catamarans. Seasonal mooring in our port is safe and comfortable. Solid breakwater is designed to protect the harbor from waves and storm. There is no swelling in the port. Haven Kakumäe marina is equipped with the modern floating piers and booms so berthing is fast and easy. All berths have locks and are under 24h CCTV video surveillance to prevent unauthorized access.
There is an automatic gas station Alexela 24/7.
Professional marina crew will provide any assistance and help with any questions. Haven Kakumäe offers a wide list of services.
Keep your vessel in Haven Kakumäe marina during the season. You don't need to care about your boat - let us care – and you can just enjoy the sailing. Give us the keys and we will do all the rest. All services in one location.


Mooring plan.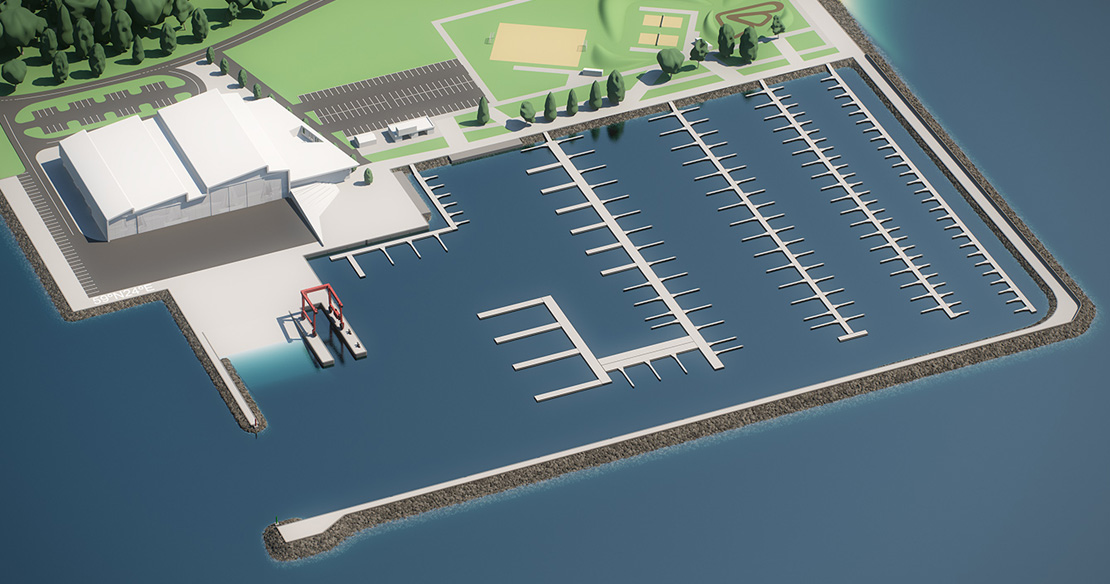 Rent a berth in Haven Kakumäe marina
Berths:
Floating berths (A-F) are designed for convenience and safety of boaters for seasonal moorage.
VIP pier F has 8 moorage places for mega-yachts up to 30m long.
Berth G is designed for guest sailors who can stay for a one or a couple of days.
Become a season berth holder and get benefits: 1 lift-out /launch is free during the first season, free parking, free Wifi, and free access to the premises of a new Maritime Center: dressing rooms, saunas, WC. Also, you can get benefits from Haven Kakumäe client's program.
Piers description
Floating berths in Haven Kakumäe marina were designed by Top Marine, one of the biggest Estonian manufacturers. The production has started early in 2016.
All together there are 5 floating berths with total length of 1137 m. The longest berth amounts to 501 m. It can be considered as engineer masterpiece due to its design and construction details.
Unique water and electricity supply bollards were designed by Keha 3 company and can be considered as art objects. The posts are illuminated at the night time. The architectural bureau was also responsible for creation of gates and lamp posts. With all these elements marina looks beautiful and special.
Price list for seasonal holders
| Berths | Seasonal price (6 months) | Utilities |
| --- | --- | --- |
| BERTH A (up to 8 m) | | |
| A-G01 – A-G10 | 1500€ | 27€ |
| A-G11 – A-G54 | 1320€ | 27€ |
| BERTH B-R (up to 9 m) | | |
| B-R01 – B-R10 | 1680€ | 27€ |
| B-R11 – B-R50 | 1500€ | 27€ |
| BERTH B-G (up to 11 m) | | |
| B-G01 – B-G10 | 2040€ | 40€ |
| B-G11 – B-G38 | 1860€ | 40€ |
| BERTH C-R (up to 11 m) | | |
| C-R01 – C-R10 | 2640€ | 63€ |
| C-R11 – C-R34 | 2040€ | 63€ |
| BERTH C-G (up to 14 m) | | |
| C-G01 – C-G07 | 3480€ | 63€ |
| C-G08 – C-G29 | 2640€ | 63€ |
| BERTH D-R (up to 15 m) | | |
| D-R01 – D-R07 | 3840€ | 199€ |
| D-R08 – D-R29 | 3480€ | 199€ |
| BERTH D-G (15 m – 20 m) | | |
| D-G01 (up to 15 m) | 3900€ | 199€ |
| D-G02 – D-G07 (up to 20 m) | 5400€ | 199€ |
| D-G08 – D-G13 (up to 20 m) | 4200€ | 199€ |
| D-G14 – D-G21 (up to 15 m) | 3540€ | 199€ |
| BERTH E (up to 15 m) | | |
| E-01 – E-07 | 3000€ | 199€ |
| BERTH F (25 m – 30 m) | | |
| F-01 – F-04 (up to 30 m) | 10 800€ | 199€ |
| F-05 – F-08 (up to 25 m) | 7800€ | 199€ |
Prices include usage of port premises, shower, sauna and parking.
Prices include VAT (20%).
Prices valid in 2022-2023.
Rental form
Please fill the registration form if you are interested in renting a berth.
Or contact our manager for making a reservation.
Martin Tuul.
Telephone +372 5370 0023
Email: martin@havenk.com
Guest visit
Haven Kakumäe marina welcomes all guests and boaters for a short stay. You can find the port on sailing and navigation maps. Entrance to the harbor is safe and easy. The depth inside is 2,5 – 4m.
Marina is located just 10 km from the Tallinn city center. All sightseeing and shopping malls are in the driving/walking distance. You can use a taxi or a city bus (bus stop is in 300m from the port office) to get to the center.
When staying in the harbor you are free to use marina premises: dressing rooms, saunas, showers in the Maritime center new building. Please ask marina personnel on reception for assistance. The price for a guest visit includes electricity and fresh water supply and free WiFi.
You can enjoy the local nature, rent a bike in the port and cycle around the peninsula to see the marvelous views around. In summer period there are many events in Haven Kakumäe including concerts, festivals and sport competitions. Check out the seasonal schedule to plan your visit and book a moorage place in advance.
Guest mooring
Guest moorages are located at pier G. Mooring is free within 3 hours. Minimal guest visit period is 1 day.
Please notify the marina staff in advance about your visit and send an inquiry on a website. During events, the number of mooring places can be limited. Also, we ask you to follow the event's rules while staying in the port.
Guest visit steps:
Notify marina staff about your arrival in advance by email, website inquiry, or phone.
If you are coming out of EU zone, please ensure to proceed with the customs control in accordance with the regulation. Ensure that you have all the required documents.
Please, doc your boat on G-pier on the moorage that marina staff had advised. You can contact the marina crew using VHF channel 10 (call sign Haven Kakumäe). In case you don't know where to park your vessel, contact the marina staff for assistance.
After mooring please go to the marina office (2nd floor of a black building) for registration and access cards. Marina's office operates at 8:00 – 20.00.
In case you are planning to arrive at the port after 20.00, please notify marina stuff in advance and you will be provided an access code to the gates.
You can use marina premises: sauna, dressing rooms, WC.
Information about the services is here: http://marina.havenk.com/en/port/service/
You are warmly welcomed to visit our restaurants. Additional information and table reservations here: http://marina.havenk.com/en/restaurants/
For your convenience, there is free WIFI in the marina. Network: Haven Kakumae Public. Password: havenkakumae

Estonia's territorial waters
Estonia's territorial waters cover 24,000 square kilometers and the Estonian sea boundary is 3,800 kilometers long, surrounded by 2222 islands. Untouched nature, beautiful sailing routes and of course, a historical skyline of Tallinn, the capital of Estonia, makes it a must-visit place for seamen from all over the world.
Tallinn welcomes its guests with beautiful views, historical buildings, exclusive restaurants and lots of nice surprises. Haven Kakumäe is only 10 kilometers away from the famous city center of Tallinn. Haven Kakumäe, located in peaceful and prestigious subdistrict Kakumäe, is surrounded by beautiful forests and beaches. Away from the urban noise, yet close to the city, Haven Kakumäe is a perfect place for both - sailors who are in need of relaxation after a long sea voyage, as well as those who want to explore the city of Tallinn.
For more information visit websites:
www.visittallinn.ee
www.visitestonia.com
We also recommend to get acquainted and download Cruising guide which contains information about the harbors in Estonia and Latvia.
http://eastbaltic.eu/cruising-guide/
Price list for guest visit
Berth G
| Length of boat (m) | Price / 24 h |
| --- | --- |
| Up to 15 м | 35€ |
| From 15,01 to 20 м | 55€ |
| From 20,01 to 25 м | 75€ |
| From 25,01 м | 105€ |
Prices include fresh water, electricity, shower and sauna (for vessels under 20 m).
Prices include VAT 20%.
Guest visit form
Please fill the registration form if you are interested in a guest mooring.
Or contact our manager for reservations:
Martin Tuul
Telephone: +372 6777 444
Email: marina@havenk.com
Winter storage & repair
Boat winter storage


During the off-season, it's advisable to think about the winterization of your boat. When the Baltic sea is covered with ice it's better to take your yacht out of water. Haven Kakumäe provides inside heated winter storage with 4300 square meters of storage area and outdoor dry storage. A unique state-of-art heated storage facility - telling - contains rack storage with four levels of shelves for boats no longer than 10 meters long, and floor storage, which is for boats from 10 to 30 meters long.
The onset of the first cold weather is an exciting period in the life of every person. For owners of boats and yachts, the winter period is truly special, because in rapidly changing weather conditions, you must carefully follow the rules for caring for your favorite boat. The winter months are the most dangerous for your boat. Winter weather can cause serious damage (cracked hull, corrosion, broken electronics) if your boat is not ready for wintering. Winterizing is about more than just filling in fuel stabilizers, draining engine water, and adding antifreeze. Think of it as a methodological process that requires a step-by-step effort from bow to stern. Preservation for the winter period and timely maintenance is the key to the keep your vessel's condition good in the new season and the best way to extend its operational life. Depending on climatic conditions and technical capabilities, there are options for winter storage in the open air or inside. The last option is the safest and allows you to start repairs and preparations for launching at an early stage. In a boathouse, yachts dry out faster, and this improves their technical condition.
A boat is a big investment, so you need to be sure to protect it. You might consider storing your boat in dedicated premises. To save time and effort, you can entrust the boat care to professionals. Many marinas now offer this service, including Haven Kakumäe. Here you will find a modern full-service heated boathouse. Save your time and keep it safe. Get your boat in the same condition in spring as it was before winter. Store her in the Haven Kakumäe heated boathouse.
The temperature in the boathouse (elling) is around +10-12 C, with normal humidity. It ensures that yachts are in the best possible conditions during winter. 250 storage sites available in a heated storage facility. Outdoor ashore storage is available on keel blocks.
Warm inside floor storage
We are proud to offer indoor heated storage for yachts in our NEW biggest in Estonia state-of-the-art hangar. The boat facility has an area of 4300 m2 Hi-tech engineer systems maintain the constant warm temperature and normal humidity inside the building all year round. The fire protection system and CCTV surveillance guarantee absolute security for your yacht. The trained marina staff is always ready to provide the customers with professional support to meet or exceed their expectations.
Safe lift out using a power hoist
Bottom wash and conservation
Transportation to an inside storage hangar (using a crane and boat trailer)
Additional services and maintenance
Spring launch early in May using power hoist
130 t power hoist with a mast crane on top from Asco
2 separate storage premises with gates height of 9 m and 12 m and floor space 4000 m2
Motorboats inside rack storage
Haven Kakumäe offers a new service – warm inside winter storage of motorboats on shelves. The boat is kept on racks in the hangar. Using 7t forklift we can easily launch a vessel from water within 15 min and move inside. Service is suitable for boats with 10m LOA.
You don't need to move your boat each time on a trailer or keep it in a garage or your back yard. There is no risk of damaging the boat during transportation. Haven Kakumäe boat hotel is designed to keep your vessel in the best conditions. Warm temperature, no humidity and a safe environment.
Prices from 140 € per month.
Quick lift out with a forklift
Bottom wash and conservation
Moving to the rack storage during winter
Spring launch early in May with a forklift
Outside dry storage
We offer on-ground outside winter storage on the territory of Haven Kakumäe marina. Ashore storage is available on Haven Kakumäe marina keel blocks or boat trailers.
Winter season duration: November 1st – April 30th
A safe storage area with 24h video surveillance is at your service.
Monthly rent price for a dry storage starts from 5 € /m2
Additionally, we recommend ordering a special protection wrap.
A special shrink wrap is designed to protect against damage and staining which may occur during a long storage period in unfavorable weather conditions. Shrinkwrap cover fit tightly around the boat and is not flapping in the wind. More info: https://heat3.eu/marine/
Please contact our managers or fill the inquiry form for more information.
Boat repair and maintenance
Need to repair your boat?
Haven Kakumäe offers additional services for boat repair and maintenance. We have specialists who will make all the job on time and with high quality. You can order additional services in our marina:
Bottom wash, winterizing shrink wrap, conservation

Engine service and maintenance

Hull service and interior refit

Mast lift, storage and fitting. Sails storage

Other services
Winter is the most suitable time to conduct maintenance and repair of your yacht prior to a new season. In Haven Kakumäe we have a qualified team that is able to perform any boat service. Heated and equipped winter storage premises allow to carry out complicated refit projects. Our areas of expertise include hull works, teak restoration, engine repair, marine electronics, furniture, interior works, and others. Haven Kakumäe cooperates with trusted suppliers and guarantees the best quality of all the services.
Gallery
Previously conducted repairs
Winter storage form
Please fill the registration form if you are interested in a winter storage place.
Or contact our manager for making a reservation.
Martin Tuul
Telephone: +372 5370 0023
Email: martin@havenk.com